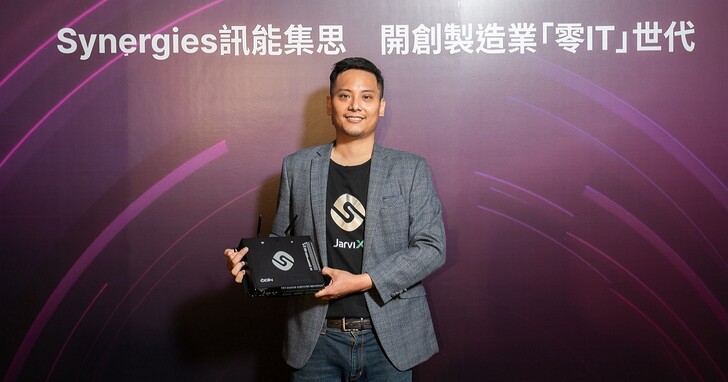 Global decision-making AI leader Synergies Intelligent Systems announced on March 3rd the launch of its new 5G IoT gateway, ODIN, and the simultaneous release of version 3.0 of its groundbreaking decision-making AI platform, JarviX. This one-stop equipment management software and hardware integration solution helps the manufacturing industry move towards a "zero-IT" new era, addressing the shortage of smart manufacturing talent. By leveraging AI to easily harness operational data, it facilitates revenue transformation.
Zero IT" Reduces Manufacturing Industry Upgrade Threshold, Helps Enterprises Bridge Skills Gap and Master Key Cost Savings
According to a survey by the Industrial Development Bureau, the willingness of Taiwan's manufacturing industry to adopt AI is as high as 90%, in response to trends such as global supply chain small-batch, diversified and flexible production, and real-time data analysis. Synergies is committed to helping enterprises realize smart manufacturing through a one-stop equipment management software and hardware integration solution, enabling resource- and technology-challenged enterprises to easily leverage operational data and transform revenue.
Synergies founder and CEO, Chang Tsung-Yao, said, "Effective digital transformation is a key factor for the manufacturing industry to enhance competitiveness in a rapidly changing economic environment. However, companies often face challenges in finding IT and analysis experts, and in communicating across different departments to promote digital transformation. Synergies aim to revolutionize the concept of 'Zero IT' to enhance companies' data processing capabilities, empower employees to leverage decision-making AI platform applications for efficient problem solving in different scenarios, and liberate IT personnel from highly repetitive tasks, allowing them to focus on more valuable work."